Epson T-Series Printer Family
Precision. Performance. Brilliance.
A New Generation of Photographic Display Signage
As a printer, you require the right tool for the job. Best Fake ID,And, that means having a variety of printing technologies available to improve your customers' print quality, delivery time and cost.
Introducing an all new family of high-performance archival pigment printers from Epson—providing print shops with the right printing solution for the job. And with a lower total-cost-of-ownership and profit-focused design, you'll reduce overhead, labor, and even utility costs.
Why Add an Archival Pigment Printer to Your Print Shop?
True Photographic Print Quality

Far superior to solvent or UV

Accurate Spot and Process Color
Fast Print Speeds

 Up to 1,311 square feet per hour

Archival Pigment Ink Technology

Environmentally-friendly water-based inks
Great short-term indoor and outdoor print permanence

Flexible Media Handling

Print directly to paper, films, and even poster board up to 1.5 mm thick

Extremely Low Printer Maintenance

Automated print head cleaning technology and simple water-based inks

Lower Total Cost of Ownership

High-capacity 700 ml ink cartridges with a low cost per ml

Compatible With Your Workflow

Supported by most leading third-party RIPs and workflow software
Epson Philippines SureColor T3270 High-Quality Screen Printing Positive Film Printer
• High Quality Screens up to 65 lpi
• Preserve fine details with precise halftone dot controls
• Excellent registration with negligible drift – Even on long output Epson Screen Positive Film
• Consistent, reliable screen positive film • Instant dry- wont stick to the emulsion Epson UltraChrome Pigment Ink
• High black density up to 4.0 DMAX
• High UV opacity Fastest Speed in Its Class
• Save time producing film positives – up to 40 films per hour Supported By Epson
• Complete solution (hardware, ink and software) supported by Epson
• Uses genuine Epson ink- no need for hacked systems on discontinued Epson printers Versatile Use • Create screen positives, proofs, posters and pop-up banners with the same printer
Extreme Print Quality – Capable of up to 65 lpi – Capable of print resolutions up to 2,880 x 1,440 dpi – Precision ink drop control for outstanding clarity and sharpness Fast Print Speeds – True 720 dpi per color channel per single pass – Quite possibly one of the fastest printers in its class Commercial Grade Reliability – Developed for use with Epson UltraChrome aqueous inks for high reliability – Capable of high-volume printing with very little downtime for maintenance.
Epson PrecisionCore TFP Print Head

Maximum resolution of 2880 x 1440 dpi for incredibly sharp text and fine detail
Precise ink drop control with variable-sized droplets as small as 3.5 picoliters for outstanding clarity and sharpness
Utilizes Micro-Electro-Mechanical Systems (MEMS) Technology for unparalleled Dot Placement accuracy and high speeds
Developed for use with Epson UltraChrome XD inks for high reliability with very little downtime for maintenance
Epson UltraChrome XD Inks
Specially formulated pigmented inks for brilliant output with rich blacks and vibrant colors even on inexpensive plain paper
Durable inks with extreme water, smudge, fade, and ozone resistance; excellent for archival and short-term outdoor use
Multiple size ink cartridges – up to 700 ml capacity – for low printing costs
The SureColor T-Series printers are designed to be used exclusively with these specially-formulated inks, and not with other brands of cartridges or inks
Optional Expansion Modules
High-performance Adobe PostScript 3 Hardware engine supports Hot-Folder batch printing and easily integrates into the most complex workflows, including support for secure PDF printing
Boost workgroup productivity with the internal 320 GB print server which can be managed remotely, Fake ID ,and allows for print jobs to be saved and reprinted
The expansion modules can be added at any time, allowing the printer to grow with your business needs
Print:
---
Printing Technology:Advanced PrecisionCore TFP 10-channel, drop-on-demand printhead with ink-repelling coating technologyMinimum Ink Droplet Size:Enhanced Variable Droplet Technology as small as 3.5 picolitersMaximum Print Resolution:2880 x 1440 dpi; 1440 x 1440 dpi; 1440 x 720 dpi; 720 x 720 dpi; 720 x 360 dpiPrint Speed:
Speed – 720 x 360 dpi – 660 ft2/hr
Quality – 720 x 720 dpi – 275 ft2/hr
Max Quality – 720 x 1440 dpi – 105 ft2/hr
See Note1Nozzle Configuration: Color and Monochrome 720 nozzles per Color (x5)
Ink:
---
Ink Type: Epson UltraChrome XD
Ink Configuration:
5-cartridge (Cyan, Magenta, Yellow, Photo Black, Matte Black)
Replacement Ink: 
Epson Intelligent Ink Cartridge
2
Ink Cartridge (110 ml)
Photo Black T692100
Cyan T692200
Magenta T692300
Yellow T692400
Matte Black T692500

Ink Cartridge (350 ml)
Photo Black T693100
Cyan T693200
Magenta T693300
Yellow T693400
Matte Black T693500
Ink Cartridge (700 ml)
Photo Black T694100
Cyan T694200
Magenta T694300
Yellow T694400
Matte Black T694500
General:
---
Operating Systems: Mac OS X® 10.7 – macOS™ 10.12.x5 Microsoft Windows 10, 8.1, 7 (32-bit, 64-bit)5 
Server Systems: Windows Server® 2012, Windows Server 20085 
Sound Level: Approximately 50 dB(A) according to ISO 7779
Warranty: Standard one-year usually next-business-day on-site repair with toll-free phone support Monday through Friday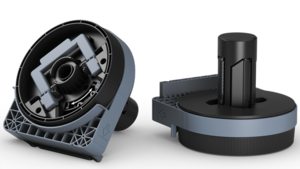 Accessories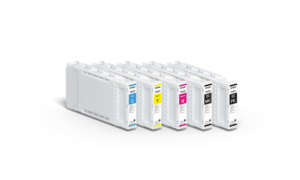 Ink